Is a Fungicide Application Cost Effective to your Operation?
Is a Fungicide Application Cost Effective to your Operation?
31 January 2018
For some time, using aerial application of fungicide was the go-to method for many growers and producers.  With the way that the times and technology are changing, it's critical for farmers to evaluate whether that's still the most cost effective method for them to see a positive return of investment.
According to an article in Corn and Soybean Digest, the average cost of a fungicide is $10 to $15 per acre and the cost of application is $12 to $15 per acre for aerial and $5 to $8 per acre for ground.  This brings the total cost to spray fungicide between $15 and $30 per acre.  You add in the crop costs, and hope that corn is at least $3.50 and beans are $10, and you're looking at needing a corn yield of at least 4.3 to 8.6 Bu/acre and 1.5 to 3 Bu/acres for soybeans to break even. 
To add another facet to the equation, it's important to consider the weather for the year.  We're currently dealing with a dry year, which means disease pressure is lower and the yield response from a fungicide is typically smaller.
Corn and soybeans have had like trends for yield responses from fungicides.  To clarify this point, the chart below shows the average response to fungicides tested with the Iowa Soybean Association (ISA) On-Farm Network since 2006.  The graphics only show the average yield response.  According to the article, it is possible for a fungicide to give a positive return-on-investment, but On-farm and Iowa State University testing proves that the probability is much lower when conditions are not favorable for disease.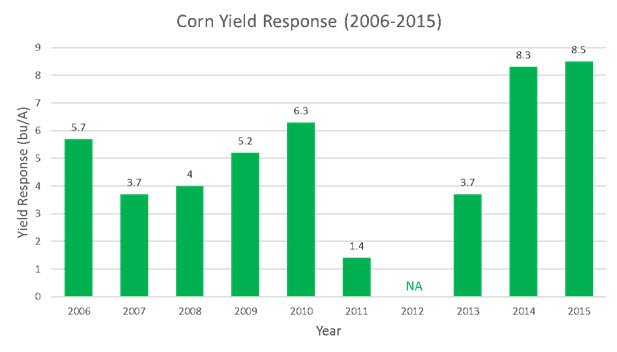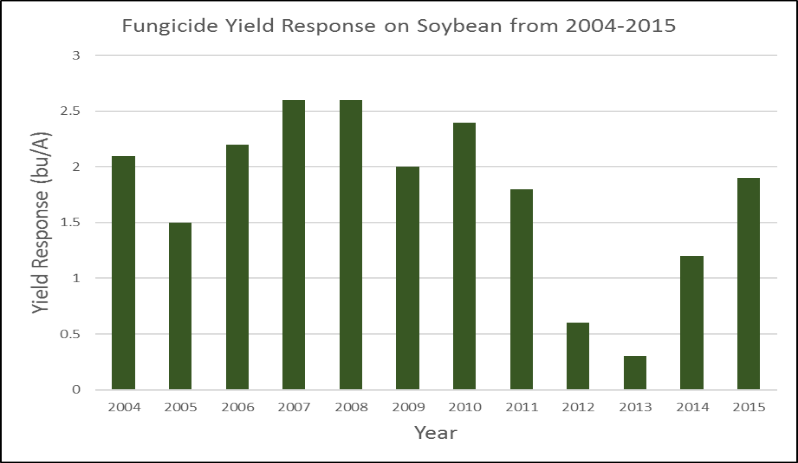 Situations where the variety or hybrid is very vulnerable to foliar diseases, such as northern leaf blight on corn, will increase the possibility of a fungicide giving a positive return-on-investment.  Look up the disease possibility or contact your seed dealer to find out more information about a specific hybrid.
Farmers are also spraying fungicides to improve end-of-year stand ability of corn.  It might not add more bushels but it can make harvest go much smoother.
Depending on the grower's weather conditions and if they have the money to apply the fungicide to their crops, this might be a risk to take for a positive response to yields on their operation. 
Please Log In to Submit Your Comment
Not Registered? Click HERE!